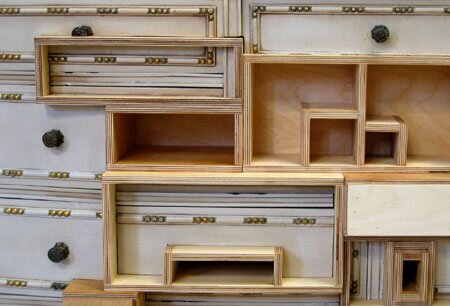 For Immediate Release
Reception Friday, April 25, 7-9 PM
Hours for the exhibition:
Friday, Saturday, Sunday and Monday 12-6 PM
April 26 - May 19
Roebling Hall is pleased to announce the first New York gallery exhibition of the highly poetic sculptures of COURTNEY SMITH. Evocatively titled "Copacabana" in reference to the geographic source of Smith's source material, the exhibition presents the artist's signature intricate elaborations on found furniture as vibrant, overgrown metaphors on the theme of the Contemporary Baroque.
Always starting from an existing form that is often a commonplace object, Courtney Smith subjects the pseudo-Louis XVI and Empire furniture she works with to various types of manipulations that suggest, among other things, intense biological and social processes. Cutting, hinging, carving, inserting and grafting onto the recycled "host" object, Smith creates highly original works that invoke both the naturally degenerative order of the body and the relentless disorder of social architecture.
Promoting, in the artist's words, "the favelization of the romantic ideal," Smith's sculptures transform the surfaces and functions of their basic forms either by a process of wild addition or through a complex system of erasure. One set of works piles mountains of hard-edged square and rectangular modules onto filigreed furniture, while another carves detailed ornamental patterns on the wood's skin. The artist's drawings, for their part, trace the organic and parasitical lines that afflict the host objects on paper, appearing like samples of some imaginary but perversely beautiful virus.
Sculptural distillations of the world's cross-cultural traffic, Smith's hybrid objects speak to myriad processes of globalization in a language opposite to that of the official lingo of governments and international agencies. Organic and resistant to political and sociological interpretation, Courtney Smith's sculptures exist as degenerated, overdeveloped entities shining in the beauty of their brazen novelty.
Courtney Smith has or will exhibit her highly innovative work at, among other venues, the XVIII Bienal de la Habana, Museu do Paco Imperial (Rio de Janeiro), Museu de Arte Contemporanea, Niteroi, XXIV Bienal de Sao Paulo, Centro de Arte Contemporaneo (Mexico D.F.) and the Museo Nacional Centro de Arte Reina Sofia (Madrid). She is represented by Galeria Fortes Vilaca in Brazil and Roebling Hall.