"Weeping"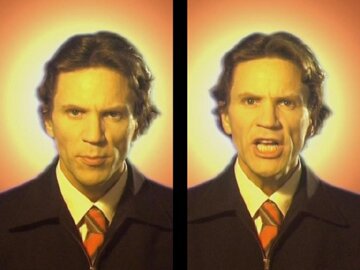 For Immediate Release
Reception Wednesday September 24th, 6-9 PM
Hours: Wednesday, Thursday, Friday and Saturday 12-6 PM
September 24th – October 25th
Satellite® is pleased to present "Weeping," a powerful and incantatory two-channel video installation by Bjorn Melhus. Working with multiple levels of sound, language and image derived from preexisting acoustic material, Melhus assembles images and spoken text into enveloping fields—punctuated by rhythmic, spatial and temporal sequences—which often contain sharp commentary on America's globalizing culture.
Borrowing a televangelists voice from the "Trinity Broadcasting Network," "Weeping" projects onto the room's darkened space two floating, parallel images of identical men—both played by Melhus—who enunciate prophetic phrases of comfort, catharsis and salvation in tones that are, by turns, emotionally satisfying and profoundly manipulative. Pushing its original imagery and recycled audio into the domain of the oracular, Melhus establishes a weird zone where catastrophe and its aftermath appear biblically, calamitously impending.
Praised by Peter Schjeldahl in The New Yorker and Gary Shtyngart in the pages of The New York Times, the work of Bjorn Melhus heralds the arrival an important new videoartist to New York. His second solo exhibition in New York in ten months, "Weeping" represents one of Melhus most important and powerful video installations.
Bjørn Melhus has exhibited his work in, among other venues, at the The New Museum of Contemporary Art, Long Beach Museum of Art, Kunsthalle Bremen, Museum Ludwig Cologne, Kunstverein Hanover, Kunsthalle Nürnberg, Sprengel Museum Hanover and the Goethe-Institute New York.
Bjørn Melhus' work can also currently be seen in "The American Effect" at the Whitney Museum of American Art, The Istanbul Biennial and Anita Beckers Gallery (Frankfurt). A scheduled large-scale solo exhibition of his work is set to open at FACT, the Foundation for Art and Creative Technology (Liverpool) in February, 2004.

---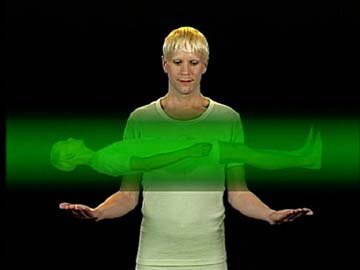 Still from "Again"
born Kierchheim/Teck, Germany
BJØRN MELHUS' extraordinary video pieces are eerie looks at the modern world. His smoothly produced futurism is molded out of the vapidity of daytime trash television, telemarketing, popular music and movies and televangelism all rolled into one. Typically sampling audio directly from these sources with an uncannily hypnotic rythmic repetition, he transforms himself into all the characters who inhabit this lonely encapsulated reality, playing their roles, with scant hope of true emotional connection in the landscape built out of this culture.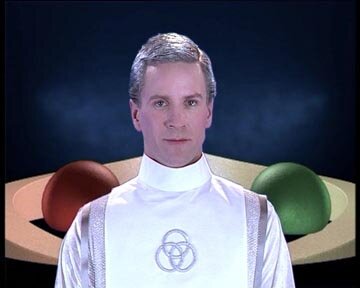 Still from "The Oral Thing"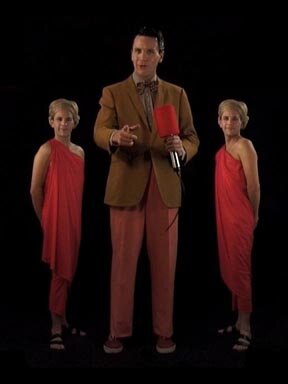 Still from "Primetime"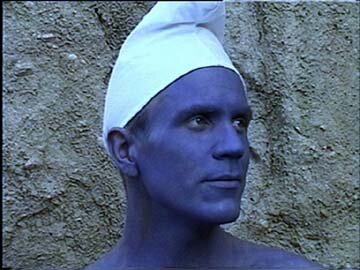 Still from "Blue Moon"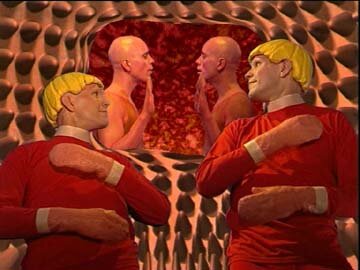 Still from "No Sunshine"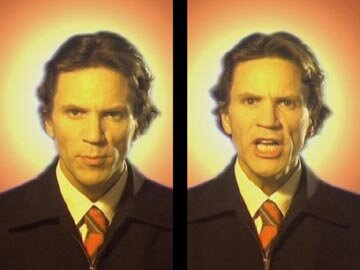 Still from "Weeping"