"A Message to My Audience"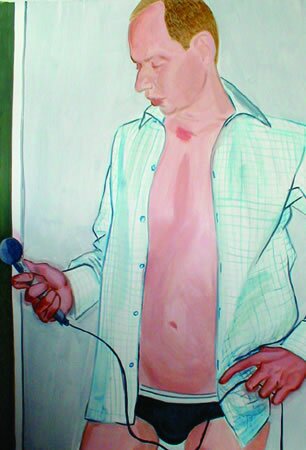 SATELLITE® (a division of ROEBLING HALL)
94 Prince Street
Manhattan NY
T F
roeblinghall.com
For Immediate Release
Live Performance: Joe's Pub, Saturday, October 25, 9 PM, $12
Reception Saturday, November 1st, 6-9 PM
Hours: Wednesday, Thursday, Friday and Saturday 12-6 PM
November 1 - December 6, 2003
Satellite is very pleased to present "A Message to My Audience" an amped up yet intimate installation of painting and video within a recreation of the bedroom of Maxi Geil!, the rockstar alter-ego of artist Guy Richards Smit. Coupling seemingly incongruent attributes?that of the ego-driven exhibitionist with an intimate and personal portrayal of his band Maxi Geil! & PlayColt?Smit dances a paradoxical line between parody and sincerity.
By making the bedroom of Maxi Geil the setting for this exhibition, Smit plumbs the depths of the cult of personality, reaching beyond the facade of fame, and exposing the inner, vulnerable side of his infamous Maxi Geil! persona. Within this very intimate setting, a place where we imagine sex and dreams unfolding, Smit reveals the inner life of rock stars, through sensuous yet quiet portraits of each of the band members. Not the glitzy, hyped images you would expect of members of a rock band, Smit presents sensitive depictions of each band member engaged in deeply personal, introspective moments.
In contrast to this, the full-on star quality of the Maxi Geil! & PlayColt phenomena is played out on the bedroom?s TV set. A broadcast of the television music program "Countdown Video Klasse!??beamed directly from from the upper reaches of Alpine Switzerland?hypes the band through video performances of live shows and a staged music video of the hit "Strange Sensation". Hosted by a Swiss, Deutsch-speaking, "hip" version of Casey Kasem, this pop television program confirms the expansive international influence of Maxi Geil! & PlayColt. In "Strange Sensation," even classical balletists find it necessary to reach out to Maxi Geil to reinvent themselves in a contemporary guise.
Guy Richards Smit has previously exhibited his work in, among other venues, MOMA?s Mediascope, La Bienal de Valencia, Havana Biennial, Palm Beach Istitute of Contemporary Art, Bass Museum of Art, Aeroplastics (Brussels), G-Module (Paris), and Roebling Hall.

---
Guy Richards Smit
as

present
"The Ballad of Bad Orpheus"
-the rock opera-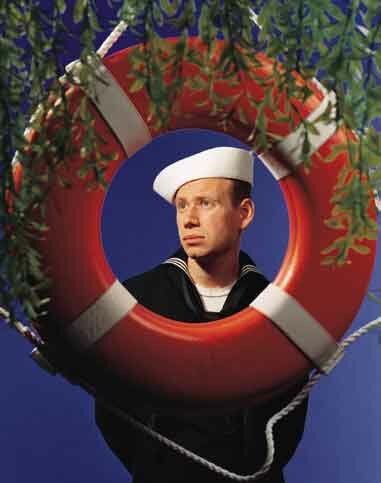 December 9, 2000 -January15, 2001
Guy Richards Smit, in demonically funny roles as the super-horny killer heartthrob "Maxi Geil" or the artworld's funniest standup big painting guy "Jonathan Grossmalerman" skewers sacred cows from Fassbinder, Genet, Bryan Ferry to Ricard Serra and Julian Schnabel. His video personnae can tell it like it is, or better yet, how it will be the funniest. From one loveless egomaniac to the next, his characters bask in the glow of their own flaming crash and burns, as they wreak carnage all around.
March 17-April 14 2000
Guy Richards Smit
as Jonathon Grossmalerman In
"The Jonathan Series"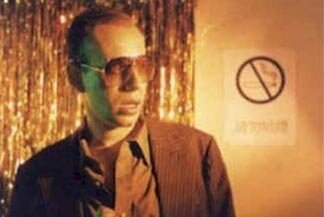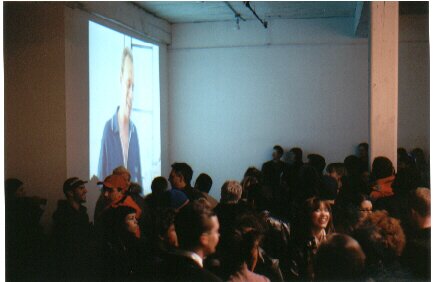 "Jonathan Series" Installation Shot
Watercolors by Guy Richards Smit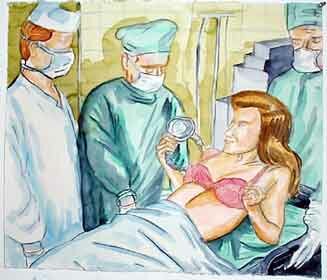 "Party Girl"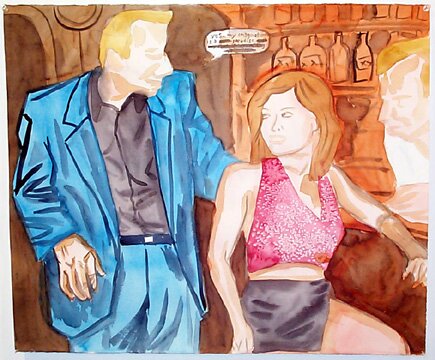 "Yes, My Imagination is a Paradise"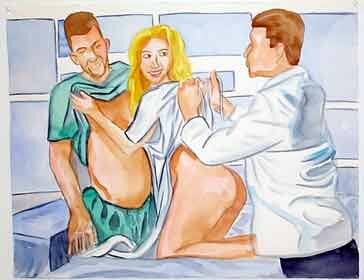 "Check Up"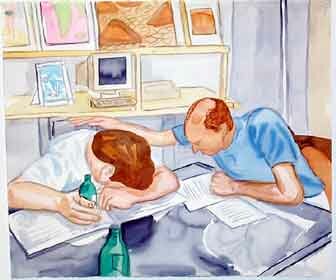 "Comfort"
"Studio Visit"