"Morality Plays"
November 23 - December 23, 2002
"The Golem" (2002)
Roebling Hall is pleased to present the first U.S. solo gallery exhibition of the work of Daniel Lezama. Painted from life in his studio in the roughneck Mexico City neighborhood of Tepito, Lezama's canvases evoke the myriad social, cultural, economic and psychological dislocations of Mexico's (and our own) globalized reality while bizarrely accessing the nearly forgotten lessons of historical painting from the 18th and 19th centuries and beyond.
Titled "Morality Plays," Lezama's newest suite of paintings occupy a strange, unsettling and suggestive space between the painterly and popular cultures of his native Mexico and those of the U.S. Full of obscure narratives, blind allegories and weird salacious imagery that together hazard multiple levels of interpretation, Lezama's canvases burrow deep into into the psyche with a libidinous energy that is as exhilarating as it is deeply disturbing.
Paintings of immoralistic dramas and false performances, Lezama's representations are comfortably situated at the forefront of painting's general resurgence. Best understood as works confected in the tradition of "painting-after-photography" or "painting-after-painting," Daniel Lezama's canvases open up yet another important road to the act of painting. One, above all, that is committed to conceptually loaded images, representations which owe as much to Lezama's own specific cultural identity as they do to a long ignored painting tradition and our particular global present.
Daniel Lezama has exhibited his work, among other venues, at Mexico City's Museo de Arte Moderno, the Museo de Arte Rufino Tamayo and the Museo de Arte Carrillo Gil and has recently exhibited in solo or group exhibitions in Amsterdam, Berlin, Madrid, Paris and New York.
"Trick or Treat" (2002)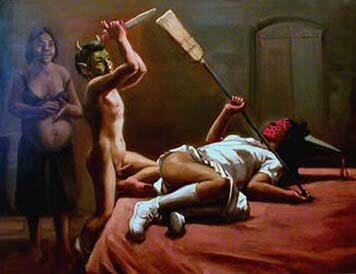 "Faun and Witch" (2002)
"Backseat" (2002)