"Remote Control"
At Roebling Hall
November 5 -29, 1999
Car Series15.8/ Coffee and Donuts
Roebling Hall is pleased to announce the opening of REMOTE CONROL, a solo exhibition of paintings by artist Paul Campbell.
Abstract Expressionist Robert Motherwell once wrote, "Nothing as drastic as abstract art could have come into existence save as the consequence of a most profound, relentless, unquenchable need...If a painting does not make human contact, it is worth nothing." Reflecting on abstract painting and its place in contemporary society, Paul Campbell explores abstraction's most poetic, frankly beautiful aspects, while opening up the nearly century-old practice to up-to-date, aleatory experiments with wry techniques and an intensely felt rhetoric of painterly process.
Eschewing the politics of "touch" which were the cornerstone of Modernist abstraction, Paul Campbell marks his carefully prepared oil and wax canvases with such every day objects as ten cent string, tennis balls, and remote-control cars, letting the careening traces of paint build up a rich and controlled chaos. "I use just about anything I can to paint with," Campbell has said about his direct, rhythmic, yet extremely fine-tuned method. "It is a way of getting away from my hand to liberate the painting, a combination of a methodological and intuitive painterly approach."
Campbell's latest paintings, the remote-control series, were each made by driving electronically-powered toy cars over the artist's elaborately dense backgrounds. Democratic to the point of allowing his two young sons to collaborate on one of the paintings, Paul Campbell makes of his work an at once highly intellectual and playful process. The result is an originally rejuvenated brand of abstraction - painting perfectly placed at the intersection between the artisanal and the conceptual, the historical and the up-to-date.
Car Series 8.0/ Rustler
Car Series 15.1/ Day & Night
Car Series 15.3/ Zip Drive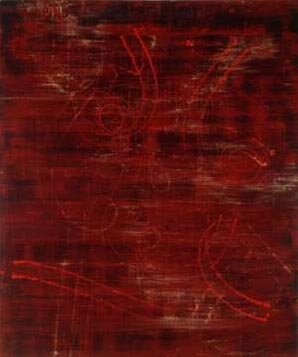 Car Series 15.4/ Red Tracks
Car Series 15.5/Through Blue
Car Series 15.6/Grey Stripes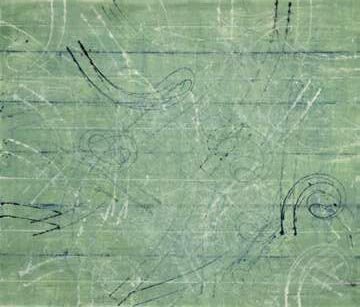 Car Series 15.2/Composition in Green
Painting Tool