"Imperfect Systems"
January 12 - February 11, 2002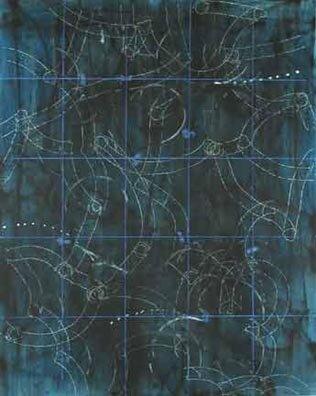 "Imperfect Systems 4"
Roebling Hall is extremely pleased to announce its second gallery exhibition of the innovative painting work of PAUL CAMPBELL. Titled "Imperfect Systems," Campbell's highly painterly abstractions mine the gap between methodology and intuition, while simultaneously paying homage and parodying "gesture" through his use of unorthodox painting tools, like tennis balls, string and remote control cars.

Underlining the tension between the orderliness suggested by his elegantly applied oil and wax backgrounds and his random, chaotic flow of lines and marks, Campbell hints at a larger visual metaphor for imperfect systems of all kinds (systems of thought, systems of transportation, systems of government, etc.) while drawing out from his experiments a solid aesthetic of imperfect beauty.

Accumulating studied flaws, seeming accidents and exaggerated, deliberate imperfections, Campbell layers random gestural processes over one another. Dragged brush marks created by a toy car are laid atop gridded lines achieved by snapping paint-soaked strings atop canvas; sets of recursive splats and miniature tire marks trip off colorful explosions on fields of vibrant primary colors.

Moving like thoughts or ideas toward the forefront of consciousness, Campbell's signature methods of mark-making rise to the surface of the viewing experience like a pond dotted with so many lily pads. All together they account for an order which, on its face, appears impossible. Taken each by each, they generate eruptions of distinctness, individualities which in themselves constitute the mark of meaning.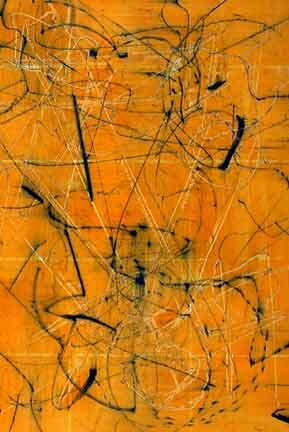 "Imperfect Systems 5"
"Imperfect Systems 6"